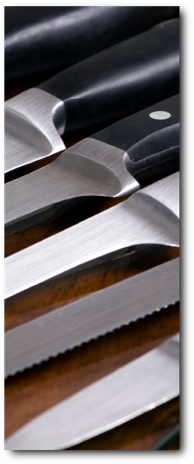 There is no substitute for a professionally sharpened knife.

Whether it's a kitchen knife, a serrated knife, a hunting knife or your favorite pocket knife, we sharpen, restore and recondition knives of all types.

We restore knives by repointing broken or bent tips, refurbishing worn serrations and reshaping worn or damaged knives returning them to their original geometry with a perfect edge.

The knife edge is tailored to match the steel, so if it's the extra hard steel found in Japanese knives or your favorite high carbon steel knife, we provide a long lasting, extra sharp edge at just the right angle.